Escape Room Seminar Series
* The Early Bird Pre-Show Discounts for seminars and events ends Monday March 20, 2017 at 11:59pm CDT. After March 20, 2017, individual seminars may still be purchased at the full on-site show pricing (no exceptions).
---
NEW! Introducing the Seminar 5-Pack! Purchase the Seminar 5-Pack for $225 and save a total of $25 off of 5 one hour seminars.
The Seminar 5-Pack is ONLY available to purchase pre-show (before midnight CDT on Monday March 20, 2017 * ).
Thursday March 23rd, 2017
---
Create an immersive, highly reviewed Gen 1 game by using actors instead of expensive tech
Speaker: Marty Parker, Room Escape Adventures
Cost: $50 Pre-show, $60 Onsite
Time and location: Thursday, 10:15am – 11:15am, Room 231
Description: There are numerous advantages to adding actors to an escape room, namely being able to provide a Hollywood experience without the expensive build out of high tech rooms. By properly adding actors to a gen one room you can provide an amazing $78 ticket value for $28. Learn how one of the pioneers of the escape room industry uses actors to deliver unique personalized experiences that consistently receive rave reviews.

Learn the specific formula we use for each show we write that allows for our actors to entertain participants from the moment they enter the facility to the moment they leave.
GREAT experiences come from hiring GREAT people.
Where do you find GREAT people and how do you audition them? Do they really need to be actors? The answer to one question we ask our potential highers determines if we hire the person on the spot.

Do you have an actor's page setup to train new employees so you don't have to reinvent the wheel? After you hire the right people, let them build the experience for you with what they learn. Collect the data and teach the other employees.

If you are putting on an amazing experience you should be seeing constant 5- star reviews! Are you doing this simple technique to get you constant reviews?
---
Escape Room Tech 101
Speaker: Brian Warner, Evilusions
Cost: $50 Pre-show, $60 Onsite
Time and Location: Thursday, 11:30am – 12:30pm, Room 231
Description: This is an intro course that offers a robust overview on commonly used technologies in escape room puzzles. Students will be given an introduction on sensors, pneumatics and programmable logic controllers (PLCs)… learn about the different functions each performs… see example props these technologies are used for – and then get tips on where to find them and what to watch out for. Students will walk away with a basic understand of escape room tech and instructions on a few simple puzzles to get started on at home.
---
How to Become a Success in The Escape Room Industry and Stay That Way!
Speaker: John Denley, Boneyard Productions International and Escape Room International
Cost: $50 Pre-show, $60 Onsite
Time and location: Thursday, 12:45pm – 1:45pm, Room 231
Description: If you are just looking to break in this booming business or are running an existing escape room of your own, you cannot afford to miss this class! If you are a haunter and "on the fence" whether to take the plunge, you already have the tools and experience to do this. I'll show you how to do it right the first time and add big dollars to your bottom line. In this class, we will cover the following:
Choosing the right name and theme for your escape room and the impact it has.
How much space do you really need…and what do I charge?
How much do I need to spend?
The different types of escape rooms and how to decide which one is right for you? Locking the door vs. not locking the door!
How to bullet-proof your escape room: Design flaws to consider before construction.
Learn why some escape games are continuously booked solid.
What makes a great escape room?
Simple and effective ways to break-away from your competition and be the escape room everyone's talking about.
The various types of puzzles and clues.
Examples of "real puzzle designs" that you can make and utilize for under $100.00.
How to make your customers happy. Learn why word-of-mouth is so important.
The most effective ways of advertising your escape room.
Additional ways to make more money with your escape room.
---
How to open an escape room fast … and on a tight budget
Speaker: Dave Ferrier
Cost: $50 Pre-show, $60 Onsite
Time and Location: Thursday, 2:00pm-3:00pm, Room 231
Description: You have a small budget, big ideas, no time — and you want to open an escape room FAST. Industry vet Dave Ferrier opened two successful escape games and grew them into top rated city games.
Learn tricks in game writing and build design… get low-cost tech ideas… get the real scoop on Groupon and deal sites. This seminar is packed with time and money saving secrets to help you get what you need to get done fast — without extraneous costs. This is a must-take seminar for anyone that's wants to get up and going fast…and affordable.
1. How to use props and equipment you already have
2. What infrastructure do you need to run your escape game
3. How do you document your puzzles and answers?
4. How to do Gen 2 effects that are actually Gen 1
5. How do you advertise when you have no money and no idea how?
6. What should be in your escape game toolbox?
7. What are some easy-to-add (and cheap!) improvements you can make once you are up and running?
---
Add An Escape Game to Your Attraction: Use Your Existing Assets to Generate More Revenue!
Speaker: Greg Salyers, 13th Floor Entertainment Group
Cost: $50 Pre-show, $60 Onsite
Time and Location: Thursday, 3:15pm – 4:15pm, Room 231
Description: Adding an escape game to your attraction: Using your existing assets to generate more revenue!
An hour discussion and Q&A regarding operating an escape game within your existing attraction. During this hour long session, we will discuss the benefits of adding an escape game to your attraction and how to leverage you current assets.
We will discuss how to get started and how to avoid some of the pitfalls common to new escape game startups.
Design vs. buy

Brand vs. Franchise

Build vs. contract
Also a discussion on the different ways to position your escape game within your attraction, such as a stand-alone revenue generator or add-on to existing ticket or entry.
---
Should I Open An Escape Game? What you need to know about 5 Min, 10 Min & Hour Long Games
Speaker: Nicole Ginsburg, Escape The Estate
Cost: $50 Pre-show, $60 Onsite
Time and location: Friday, 10:15am – 11:15am, Room 231
Description: A practical, 101 class for beginners that outlines the basics of adding an escape game to your location. We'll examine the financials," day-to-day operations" of- 5 minute, -10 minute, -15 minute, -30 minute and hour long games. This seminar provides an overview to help you figure out if this is the right industry for you and the game length that will help your business monetize most effectively. This class will also help those who need direction on expanding their budding escape games.
---
Evolving your Room Escpaes: 10 Core concepts of Gen 2 design



Speaker:

Shawn Fischtein, Escape Games Canada
Cost: $50 Pre-show, $60 Onsite
Time and Location: Friday, 11:30am – 12:30pm, Room 231
Description: Done with padlocks and lockboxes? If you're looking to streamline operations and improve the quality of your existing games – or make your new games better – this is the seminar for you. We'll discuss what "Gen 2" really means and take you through a series of steps to enhance your understanding of tech in escape rooms. With the right design ethics in mind, simple and available technology can change the way your games are built and keep you miles ahead of your competition.
Tech for tech's sake is pointless and expensive. But we'll show you how to apply technology-driven answers to beat common design challenges, and how tech can widen your design space. The result's a smoother customer experience, and bigger, better games that can make your facility truly awesome.
---
How to create advertising for your room escape…that works!

(2 hour workshop)
Speaker: Elisabeth Garson, Steel Owl Productions
Cost: $100 Pre-show, $120 Onsite
Location and Time: Room 231 Friday, 12:45pm-2:45pm
Description: An in-depth intro seminar that covers all the types of advertising, from print and web… to social media and AdWords — designed for anyone that's unsure about where to put their advertising dollars. In this 2-hour workshop, the class will learn about the various types of advertising, get tips on budget advertising, create concepts, learn how to "approach target audiences — and write benefit driven copy" with in-class exercises. There is no single answer for advertising your room escape, but in taking this class, students will get a snapshot of how advertising professionals think. In the end, you'll become equipped with knowledge to help make decisions for their 2017 fiscal year. (This is an extended version of the seminar given at the Chicago Room Escape Conference August 2016).
---
Escape Games: Working with Brands, Film and Corporations
Speaker: Nate Martin, Puzzle Break
Cost: $50 Pre-show, $60 Onsite
Location and Time: Room 231 Friday, 3:15pm – 4:15pm
Description: Open up your target market, increase revenue and create experiences backed by big budgets! This highly lucrative market that can work in addition to your on-site operations. This is an advanced-level seminar providing a blueprint of the ins and outs and dos and don'ts of establishing a partnership and collaborating on a successful product.
Starting Off – All the pre-work that needs done prior to putting pen to paper
Making the connection.
Identifying what (doesn't) make sense.
Budgeting, scheduling, negotiations, contracts.
Is it worth it?
Designing a perfect experience – Using design expertise to collaborate to design the perfect product for both your client and your client's clients
Does your partner know what they know? Don't know?
What is the Ultimate Goal?
What's the form factor?
Building and Delivering – Because nothing makes itself
The lost art of logistics.
Who's doing what?
Living and dying by schedules.
(This is an updated presentation of the seminar given at the Chicago Room Escape Conference, August 2016 that includes new content.)
---
Saturday March 25th, 2017
---
How to bring your escape game to life from A-Z
Speaker: Derek Petit, President Adventure Sports HQ
Cost: $50,$60 Onsite
Time and Location: Saturday, 10:15pm – 11:15pm, Room 231
Description: This is a common sense seminar based on bringing your dream of an escape room to life. The seminar focuses on easy-to-implement suggestions based off proven success — not theory. The first half of the seminar talks about taking your concept to reality. In the second half, we'll focus on taking that reality and making a highly profitable and sustainable machine. Topics are covered in short, one to three minute snippets with resources and tools that are provided to the audience for further research, discovery and as a reference tool. It is highly recommended that you bring materials to take notes. Regardless of whether your escape room is a dream or a power-house reality, you will find great value in this seminar.
---
Escape Game Design: How to build a top-rated experience
Speaker: Shawn Fischtein, Escape Games Canada
Cost: $50 Pre-show, $60 Onsite
Time and location: Saturday, 11:30am – 12:30pm, Room 231
Description: When you're trying to define yourself from your competition and draw new customers into the escape room hobby, there's nothing sexier than 5-star rave reviews. In this seminar, we're going to teach you how to create the type of high-quality full-package experience that brings them in by the truckload.
We'll delve deep into customer behavior patterns and explore how every aspect of your facility impacts the end-user experience. We'll touch on some of the most common mistakes that we see owners and designers make, and then we'll show you how to crush them before they happen. Covering everything from customer touch point interactions to the psychological responses your games generate, we'll drill to the heart of one of the industry's biggest questions: how do you design truly amazing games?
---
20 Hard-Hitting "Need-to-Know" Room Escape Game Tips
Speaker: Elisabeth Garson, Steel Owl Productions
Cost: $50 Pre-show, $60 Onsite
Time and location: Saturday, 12:45pm – 1:45pm, Room 231
Description: A dense, fast moving class that boils it all down to our "Top 20 Tips", followed by ten minutes of Q/A. This class contains 20 vital secrets from the Steel Owl team for implementing and running a successful room escape game, broken down into quardrants including Operations, Advertising, Customer Service, Booking, Game Master Role, Game Play and more. In sixty minutes, you'll get some of our best kept tips including Q&A access to one of the industry's top game masters, Krystle Griffin.
---
Team Building: How to draw the corporate crowd
Speaker: James Bennett, Firefly Team Events
Cost: $50 Pre-show, $60 Onsite
Time and Location: Saturday, 2:00pm – 3:00pm, Room 231
Description: Learn how to integrate team building into your escape game. Professional team building expert James Bennett (Firefly Team Events) shows you how to integrate team building principles into your escape game.
Why Corporate Wants Team Building
What is team building? (Teamwork is not team building)

3 Reasons Corporate puts Team Building in the budget (solution, reinforcement, morale boost)

What's the benefit?
What Does Corporate Expect?
Customer service expectations – (clarity, consistency, confidence)

Deliverables

How Can an Escape Game Deliver Team Building?
Corporate vs enthusiast/recreational groups :What's the Difference?

Creating meaning for corporate groups : The Debrief

Solutions – Partners, tools, and limits
Where Do I Find More Corporate Clients?
Understanding which corporate customer segment you want

Sources of Referral Business : DMCs, Incentive Houses, Hotels . Who is already talking to your clients?

Who are you competing with? (bowling, brick/mortar activities)

What's it worth???
---
Secrets to Detail Your Escape Room

Speakers: Larry Kirchner
Cost: $50 Pre-show, $60 Onsite
Time and Location: Saturday, 3:15pm – 4:15pm, Room 102
Description: Many escape rooms feature amazing puzzle design but are lacking in the Hollywood theming punch. Learn how to create puzzles that match the theme and turn your storyline into a believable escape room. Larry Kirchner is known WORLD WIDE as one of the best scenic designers and has created over 400 attractions World Wide including escape rooms based on the Titanic, Ghostbusters, Teenage Mutant Ninja Turtles, Friday the 13th, The Mummy, and even escape rooms with animated Subways. Larry will teach you how to incorporate affordable detail to create more realistic sets for your next escape room.
---
---
Ask the Experts: Escape Room Industry Panel
Speakers: Ginger Flesher-Sonnier, Greg Salyers, Nate Martin, Shawn Fischtein, James Bennett, Marty Parker (moderated by Elisabeth Garson)
Cost: $50 Pre-show, $60 Onsite
Time and Location: Saturday, 3:15pm – 4:15pm, Room 231
Description: 5 topics. 6 experts. From gameplay and room design… to advertising, business and team building — get an insider's perspective from industry leaders. Session will feature 30 minutes of targeted questions with 30 minutes open-floor Q&A for discussion on exactly what you have questions about. Panel will be moderated by Elisabeth Garson. You may submit questions in advance to Jen@haashow.com on or before March 13th, 2017.
---
MEET THE SPEAKERS
Nicole Ginsburg
Biography: Nicole Ginsburg is the co-owner and creator of Escape the Estate, Central New York's first escape room. Nicole holds a degree in marketing from Columbia College and has over 20 years of experience in the performing arts and entertainment industry; almost half of this time has been spent in her role as Production Director for Frightmare Farms, one of the most critically acclaimed haunted attractions in Upstate New York. Nicole introduced the escape room industry to the region by utilizing existing space at the previously-existing haunted attraction. At that time, Nicole was one of very few pioneers attempting this technique.
Escape the Estate, with its theatrically-detailed sets, was a runaway hit. Within a matter of weeks, the Frightmare Farms location had sold out its available bookings for their entire season. Fueled by this success, Nicole and her team opened a second location in just six months, crafting whole-new escape rooms in a shopping mall. Since then she has helped with games ranging from 3 minutes to Mega- games lasting a few hours.
Because of her work, Nicole has caught the attention of numerous media outlets in the area. In December 2015, she was named one of the "9 Most Creative People in Central New York." Soon after, she was featured in an article about women in business, discussing her contributions to the often male-dominated industries of escape rooms and haunted attractions. Nicole has presented at educational institutions, universities, and conferences on topics ranging from young entrepreneurship to surviving a zombie outbreak.
---
Elisabeth Garson
Biography: Steel Owl is led by Elisabeth Garson, Creative Director for Steel Owl Games & Steel Owl Tech. The group is famed for "Escape The 1980s" and is creating additional, UX based escape games for large companies including The Franklin Institute, in Philadelphia PA. The company's initiatives have attracted great deal of press, investor interest, tech requests and has ultimately spawned the birth of Steel Owl Tech, producers of the industry's most advanced telephone game prop.
Prior to Steel Owl, Garson worked Advertising and UX (user experience) for 20 years as a Creative Director, with a focus on branding and experience. Her clients included large companies (Comcast, Advanta, Xfinity) to medium sized business and start-ups. From craft beer…to cable TV — all of Garson's creative work explored consumer experience, from the perspective of targeted audience research. This knowledge acted as the primary building block for the Steel Owl business model, including game development, company branding, and puzzles to create player engagement.
In addition to her advertising work, Garson created several team-oriented events, and experiences in the Philadelphia area including the sold-out "Dating Game Live" (set up like the 1980s show) and a sold out "Happening Event" where participants purchased tickets to something that was happening (but they didn't know what it was). She was also the co-creator of an independent short film that created outlandish experiences for unsuspecting deliverymen. She's the concept founder of The Philadelphia Arts Market, which is still in the process of development, and on-hold for the moment.
Over the years, Garson's endeavors have attracted press from The Philadelphia Inquirer, CBS 3, KYW News Radio, Time Magazine and dozens of others.
---
Marty Parker
Biography: Marty Lee Parker is a serial entrepreneur with a passion for the performing arts. He founded a company called Life Learning Devices, LLC that worked with world-renowned motivational speakers to create motivational products for businesses and corporations. Life Learning Devices, LLC evolved into Bucket List Productions, LLC- a company that produces events that motivate people to live fulfilled and passionate lives. Bucket List Productions became a leader in the mob event industry of active entertainment by creating and producing Mud Ninja, Bubble Palooza, The Tomato Bash, and The Cincinnati and Columbus Color Paloozas.
One day in 2013, Marty received an email from a friend that said, "I don't want tomatoes thrown at me. I don't want the colored corn starch in my hair, and there is no way I am jumping into a pit of mud … but if you produce a room escape, I'd go to that!" The very next week, Marty flew to San Francisco to attend the only room escape in the country he could find. A week after that, as he was driving to Ohio from Florida after producing a Bubble Palooza (a 5k where you run through colored bubbles that stain your skin so you look like you got pooped on by a unicorn!), he busted up laughing, for over an hour, thinking how entertainingly hysterical it would be if someone combined the murder mystery concept, a room escape and one of the most watched TV shows, "The Walking Dead."
And that's exactly what he did! Immediately after getting home, he sat down and wrote the comedic show "Trapped In A Room With A Zombie". Three weeks later he was doing test runs in his garage. One week after that it was being performed live in Chicago. Seeing that this interactive theater piece was identical to a mud run in almost every aspect, minus the mud, he quickly set out to open the show in every major city. "Trapped In A Room With A Zombie" is now being performed in twenty-five major cities around the world, including London, Toronto and Madrid.
Apart from producing the interactive theater "Trapped" series, Marty is part owner in thirteen other room escape companies that write and produce traditional room escape experiences. Marty has helped write a traveling room escape for Pepsi and has produced a large room escape event at a resort in Mexico.
Marty is super excited to share with you what he has learned from producing this comedic, interactive theater piece, including all the tips and techniques the show uses to continually deliver unforgettable experiences!
---
Brian Warner

Biography: Brian Warner's technical background comes from 18 years as a machinist and machine manufacturer, building multi-million dollar machinery for large beverage corporations, as well as 13 years in the haunted attraction industry, with his companyEvilusions, designing and constructing entire attractions. This includes all the CAD drawings, technical systems (air, electric, sound), and all animatronic manufacturing. For the last year, he has been designing and installing escape rooms, from one simple puzzle, to entire rooms and facilites, including the 2d and 3d CAD drawings, and game flow design.
---
John Denley
Biography: John Denley, alias Professor Nightmare is the founder and president of Boneyard Productions International and Escape Room International. He was the first haunt consultant to exhibit at Transworld and is the founder of Fright Times Magazine. The Professor has haunted the largest casino in America, was the first to design and build a scream park in Hong Kong and has designed, built and consulted for many major theme parks around the world. He runs Witch Mansion and Escape Room Salem, both year-round attractions and produces the best-selling "How-To" DVD series in the haunt and escape room industries. John Denley has been featured on the Today Show, CNN, Fox and well as Psychology Today, Boston Business Journal, Scholastic Magazine and other international press. His clients range from American Movie Classics, Disney Resorts to Norton "Antivirus" Utilities and is known for his approach to scare tactics and highly detailed and immersive attractions.
---
Nate Martin

Biography: Nate Martin is the Co-Founder & CEO of Puzzle Break (www.puzzlebreak.com), the first contemporary American Escape Room company. Puzzle Break is headquartered in Seattle with locations in Long Island and on Royal Caribbean ships. Prior to Puzzle Break, he was a senior executive at Microsoft and Electronic Arts. He has shipped software used by billions of users as well as some of the most beloved video games of a generation.
---
Greg Salyers
Biography: Greg spent nearly 25 years in executive positions with fortune 500 companies. Nearly 8 yrs. ago he joined the 13th Floor Entertainment group part time as the General Manager of the San Antonio location as an outlet for his love of haunting and entertaining. In 2014 Greg was tasked with creating a new business with the organization and Great Room Escape was born. Nearly three years later and Great Room Escape operates three brands with 10 locations and growing.
---
Shawn Fischtein
Biography: Co-founder and operator of Escape Games Canada and the face behind www.escapegamespro.com, Shawn and his team have dedicated themselves to breaking down the science of Escape Games and Escape Rooms. With a background in aerospace engineering and years of specializaiton in financial and customer data analytics with game theory applications, Shawn's unique experiences have led to unique successes in the fabrication, design, and operation of escape room facilities.
Shawn became familiar with escape rooms in 2009-2010 while working in Shanghai as a marketing loyalty analyst. That inevitably led him and his wife back to his home city of Toronto, Canada to design and build the next generation of Escape Rooms.
In addition to working with other local owners and keeping Escape Games Canada running in best-of-class quality, Shawn dedicates his time to developing rock-solid games that rely on scientifically tested principles. Focusing on adapting techniques developed in the video game industry over the past 20 years, Shawn and his team are striving to make games more streamlined, more accessible, and most importantly more fun for players. His passion for developing the industry and setting standards of quality is his current prime directive.
Shawn also enjoys video games, competitive e-sports, trading card games, and practically anything to do with the gaming industry. This passion comes through if you ever take a visit to Escape Games Canada.
---
James Bennett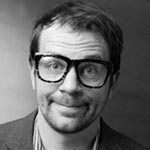 Biography: James has made a career of reaching people through laughter, adventure, and challenge. Through his work as a team building facilitator, emcee, and business owner he's helped countless people find value in shared group experiences. A passion for games, creativity, technology, and new ideas has helped him create innovative new team building products. As an entrepreneur he maintains strong ties to the start-up community and is a familiar face at local hackathons and start-up contests. His years of experience in the team building industry have created opportunities to share his skill and enthusiasm on the national stage. He believes that everyone needs more Play in their lives. Are you ready to play?
---
Ginger Flesher-Sonnier
Biography: Ginger Flesher-Sonnier is the owner and creator of Escape Room Live LLC, opening the first escape rooms in both Washington, D.C. and Northern Virginia in 2014.
Escape Room Live started with one Gen 1 room in Washington, D.C. and evolved rapidly into multiple games, locations and increased technology that now includes triggered CGI effects and Augmented Reality combined with Hollywood-style sets. With a major focus on large group events, Escape Room Live includes large lounge and reception areas with the feel of boutique hotels to cater to corporate clientele.
Ginger worked with major motion picture studios to bring five themed escape rooms including Ghostbusters, Teenage Mutant Ninja Turtles and Friday the 13th to their new 6,500 square foot store-front location on M Street in Historic Georgetown, Washington, D.C. This new location includes a beautiful bar to serve patrons and private event guests.
Escape Room Live and Ginger have been featured in West Texas Investor's Club on CNBC Prime, The Washington Post, The Washington Business Journal, TIME Magazine, WTOP Money News, Reuters, and Northern Virginia Magazine, among others.
Currently in the works for Escape Room Live is development with television producers of a new gameshow/attraction.
Ginger holds degrees in mathematics and psychology, and was an AP Statistics & Calculus teacher, department chair and competitive math team coach for two decades. She now brings her love of puzzles and games to a much larger audience! http://www.EscapeRoomLive.com
---
Dave Ferrier
Biography: Dave Ferrier helped design, build and currently manages Trapped PHL escape room. He has become an escape room industry "go to guy" on booking systems and running Groupon / Living Social campaigns. Dave has worked in the haunt industry for seven years as a performer and four years as casting director for Fright Factory in Philadelphia.
Dave is also a trainer, Marine Corps veteran and professional actor, with dozens of credits including House of Cards, VEEP, Investigation Discovery, The Travel Channel and various major motion pictures.